PhotoJournal For Dive Travelers
Turks and Caicos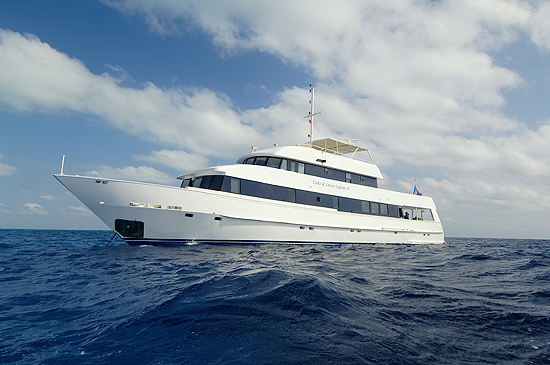 Explorer II
Turks and Caicos Explorer II is the most comfortable diveboat on which I've ever ventured. Our room had a very nice sized bed, a desk for my laptop, a closet and dresser. The main lounge featured a wide screen TV, hot and cold drinks all day and snacks. The food was excellent.
54's, 80's and aluminum 100's were available with Nitrox for an extra cost. My tank, (a 100,) always had a complete fill, at least 3000 PSI. It was a short walk, down 4 steps to the water. There was always a staff member near the ladder for reentry. We started diving off the Northwest corner of Providenciales. On the third and fourth days of diving, we dove sites off of West Caicos. Finally we moved on to French Cay. Both large and small marine life were abundant at all sites.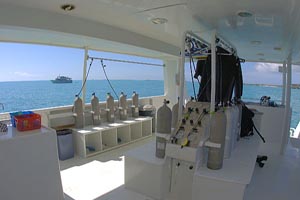 There was one problem with diving from Explorer II. The boat has three stories and no keel. Consequently the boat drifts back and forth almost 600 yards while moored. Coming up exactly where you entered the water does not ensure that the boat will be in sight. Even if you follow the mooring line up to your safety stop, the boat can completely disappear during those three minutes. Patience can be involved while waiting for the boat to return. This can be disconcerting, especially at night.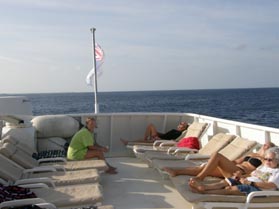 Our only shore time was a few hours in Providenciales shopping. I was happy to find an ice cream bar. Be careful. They drive on the wrong side of the street, certainly not the right side of the street.