PhotoJournal For Dive Travelers
Nautilus Explorer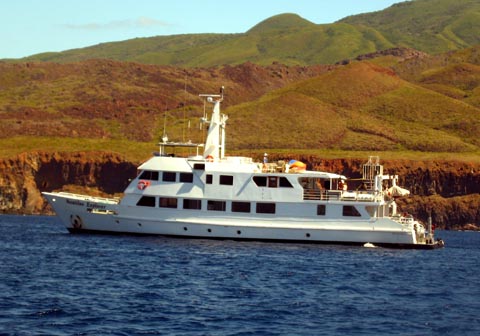 Revillagigedo Islands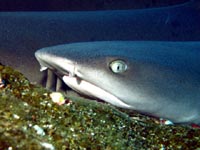 We just returned from 9 days diving the Revillagigedo Islands on board the Nautilus Explorer. Right off the bat, Mike Lever is a fabulous Captain and a great guy. Aaron, Erik and Tim were always there when we needed them, for anything. Josie and Sandy were great divemasters, leaving us alone when we wanted and there to help when we needed it. Sylvie and Lauren were everpresent, feeding us, hydrating us and even providing me with an electric seasick wristband. Lauren was on the dive deck before every dive with water and cranberry juice. She was there again whenever we emerged from the deep, bearing water, cranberry juice, hot tea and cocoa. I consumed over 40 glasses of liquid every day.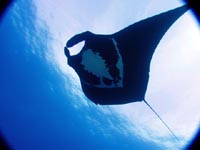 The bracelet helped a little as we crossed from Cabo to San Benedicto. I didn't feel great, but I wasn't sick either. The rest of the trip was calm. We were lucky. The unusual boarding procedure was interesting. I'll let you find out for yourself. Hint; wear sandals or bare feet for the trip. Don't wear long pants. Our room was clean and nicely appointed; large enough for its purpose. My steel 100 tank was a wonder. I usually carry 12 pounds of lead. I carried none, zero, bupkes. I still had to leave some air in my BC at the safety stop.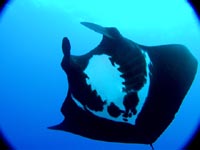 We spent two days each at three "Islands." San Benedicto was a nice beginning. Though the surge was strong, Laurie and I finally settled down, but I didn't find much. Finally I was down to 500 PSI and ready to ascend. I turned around, and found a Black Manta following two feet behind me, which Laurie had been watching. I played with him for a minute, and then I ascended sadly, while Laurie and Monte stayed with the Manta. On board they told me that another had shown up minutes later, and they had two mantas to themselves. Though the diving was beautiful at Socorro, and I was able to swim with dozens of Silky Sharks, I didn't see another Manta till Roca Partida. Bill did come face to face with a Tiger Shark, and many saw Hammerheads and other Mantas; not me. At Roca Partida we encountered hundreds of White Tips, many Silver Tip Sharks, Hammerheads and three graceful giant Chevron Mantas. It was like a dream.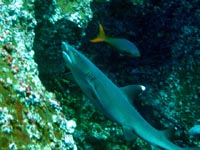 I still haven't mentioned one of the two greatest parts of the trip; Enrique. I ate 5 meals every day. 1) 7:15 AM - a small breakfast of scones, cereal, yogurt and toast - followed by an 8:00 AM dive. 2) 9:30 AM - BREAKFAST - Eggs Benedict (or your choice,) Sausage, Pancakes and all the aforementioned - followed by an 11:00 AM Dive. 3) About 12:30 PM - LUNCH - Something different every day - followed by a 2:00 PM dive. 4) Snacks - Cookies, fruit, cheese, crackers, cocktail franks and more - followed by a 5:00 PM dive. 5) SUPPER - A heavenly selection of the best; Grilled Crab, Prime Rib, 6 different pastas and sauces, Mexican delight and more followed by a 5 star luscious desert every night. Enrique is a miracle worker. As for the Mantas; you'll have to dance with them yourself to experience the wonder of these 22 foot intelligent, beautiful creatures.