PhotoJournal For Dive Travelers
Wildcat
Gubal Straits - Ras Mohamed - Red Sea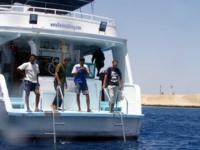 Thanks to the efforts of Asaf Carasenti and SClub Divers, Laurie and I were able to travel aboard the Wildcat July 21-25 and dive in Gubal Straits and Ras Mohamed in the Northern Red Sea and Gulf of Suez. We entered the Sinai through the Taba crossing leaving Israel near Eilat. We took a 2 AM bus on the long trip through the Sinai arriving at Sharm El Sheikh about 5:30 AM where we set up our dive gear and took a short nap. A few hours later we were diving in the Red Sea.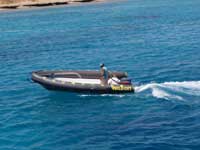 About half of our dives were from the Zodiac. We'd gear up and pile on the rubber raft and were driven to the site. On the count of three we flopped in and followed Mark and Mohamed through the wonderland that is the Red Sea. At the end of the dive, the Zodiac would come up to us, we'd doff our gear and through it on the boat. We'd then either pull ourselves onto the Zodiac or be pulled unceremoniously into the raft.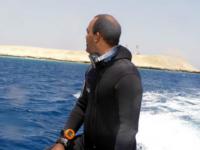 Our dive guides were Mohamed and Mark. Mohamed has traveled all over the world speaking many languages. He was an excellent dive guide, extremely helpful both on the boat and in the water. He also seemed to be a great engineer. I fell at one point dropping my dive light to the hard deck. After I had given up on finding the problem, Mohamed fixed it in short order. Mark was also wonderful, noticing the leak in Laurie's high pressure hose and getting her ready to dive in short order. He also helped Lauried survive in the high current of a Thistlegorm night dive.

Though the trip was wonderful, there were problems. The drinking water ran out with two days left at sea. The crew often forgot to turn the power back on to our air conditioner after the tanks were filled, and the main galley and below decks smelled terribly of diesel fumes during much of the trip. Meals were plentiful but served at odd hours. Often supper was served at 10 PM after an 8:30 PM night dive.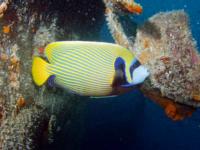 All in all it was a great trip. The reefs were awesome. The life under the sea was extremely colorful and diverse. The crew and other divers were wonderful companions for our trip into this wonderland of life. The wrecks were in great shape, and the motorcycles on the Thistlegorm looked ready to ride. I recommend the Red Sea to all divers.