PhotoJournal For Dive Travelers
Paradise Villas and Divers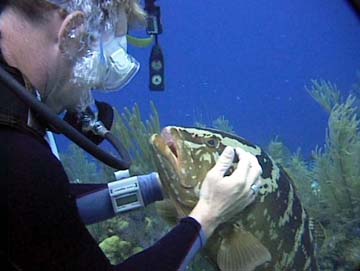 Little Cayman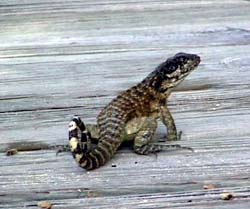 Paradise Villas is an extremely comfortable and relaxing group of villas located directly at the "airport" and on the southern beach of Little Cayman. The air conditioned Villas include a luxurious bedroom, kitchen and living area. Immediately out your back door is the beach and the sea. There is a small island in the sand, complete with rocks, lizards, palm trees and a hammock, in which to while away the day looking out over the heavenly sea. Right next to the villas is a small pool and "The Hungry Iguana," a first class restaurant, where everything we had was wonderful. Fifty yards from the villas is a mini-mall with anything you might need including videos. The Villas loaned me a VCR for free.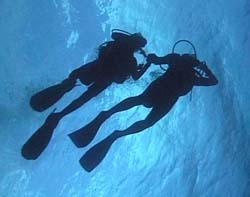 There are bicycles on the premises, as there are on all resorts on Little Cayman. The island is so small that you can easily ride to any of the resorts on the island with the bicycles. We met Gladys Howard at the Booby Sanctuary right down the road, and later enjoyed a magnificent dinner at her resort, "Pirates Point." On July 3, we cycled to the "Southern Cross Club," where inhabitants and guest from all over the island enjoyed a Canadian Independence Day celebration. Like Bonaire, Little Cayman is a place where all the resort owners work together to make the Island a wonderful place, rather than working only for there own resort, as is the practice on some Caribbean Islands.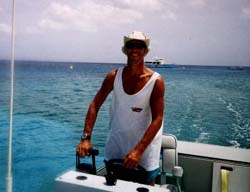 Vinny and Harold, the crew of Paradise Divers, picked us up every morning in their pickup truck. They took care of all our dive gear all week, rinsing it thoroughly every day. After a five minute ride across to the northern shore of the island, we moved from truck to boat for a very short ride out to Bloody Bay Wall or Jackson's Bight. Nearly every location we dove, we had an extra diver along, Ben, the friendly grouper, as featured in my small segment of Incredible Vacation Videos. He not only enjoyed swimming with us, but seemed to like being petted as seen above. Ben was as friendly to my wife and me, as he was to Harold.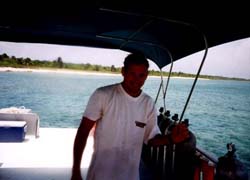 One of the nicest aspects of the trip was the small limit of divers on the dive boat. Some days, just my wife and I accompanied Harold and Vinny, (and Ben,) out to the reef. The largest group any day was five divers, including us. The reef is in incredible condition. Bloody Bay Wall is all its cracked up to be, incredible visibility, vivid color and packed with marine life. All in all, Little Cayman, Paradise Villas, and Paradise Divers make for an incredibly relaxing and enjoyable vacation in wonderland, including some of the most beautiful diving I've ever experienced.