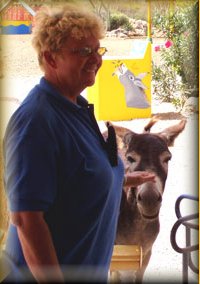 On my recent visit to the beautiful island of Bonaire in the Dutch Caribbean, my wife and I followed the signs south of Kralendyk, just past the runway of the Flamingo Airport to find a wonderland of kindness and gentle loving founded by Marina Melis. As we entered the Donkey Sanctuary, my wife, Laurie, was immediately surrounded by forty loving animals, who followed her everywhere she went. She soon realized that it was the loaf of bread she carried which precipitated the crowd, but the love continued even after the bread was all gone. This was our first introduction to the wonderful donkeys living in the Bonaire Donkey Sanctuary. These donkeys were some of the descendents of animals originally brought to the island as beasts of burden and to work in the great salt pans. They had been replaced by backhoes and conveyor belts and were now free to fend for themselves.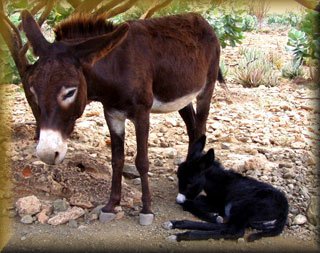 The day we arrived, Maria had given birth to a new colt. Though she was highly protective of her baby, she did allow my wife to kneel alongside them and pet the little one. It was truly beautiful. More often baby donkeys that have lost their mothers are raised in the safety of the sanctuary. The sanctuary staff also provides emergency care for donkeys injured by cars and on-going medical needs of the entire population of the sanctuary. The Donkey Help Foundation built the sanctuary. Profit is not their aim. Their sole concern is the improvement of the bad living conditions of the almost 270 donkeys on Bonaire. 211 donkeys were found on Bonaire during the last survey in 2003. An additional 91 donkeys were resident at the sanctuary as of March 2004.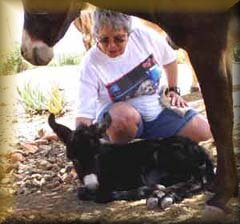 The donkeys in the park each have their own story, but all have found badly needed refuge here. DONKEY SANCTUARY provides a save environment so they can grow old in peace. In order to achieve its goal, the sanctuary must depend on you and your generosity. The Island Government has been so kind as to lease the land for which the Donkey Help Foundation pays a symbolic annual rent The buildings and facilities you find in the park are the work of dedicated volunteers. The donkeys in the park each have their own story, but all have found badly needed refuge here.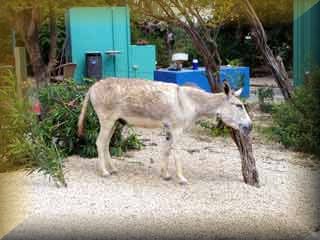 You can learn much more about this wonderful place, how you can visit and how you can help by clicking on any of these pictures. Here you can see some of the residents getting a cool drink while hiding from the midday sun in this haven for loving animals, the Donkey Sanctuary. They also have a windowmill, a playground, a viewing tower, a giftshop, a desert enclosure complete with Iguana and a specially designed picnic area - a pavillion with tables and chairs surrounded by a small concrete wall. Please don't miss the Donkey Sanctuary on your trip to Bonaire.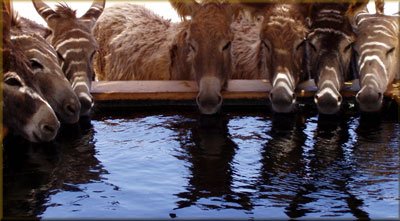 Bob Klemow's Bonaire 2004 Site
Bob Klemow's Bonaire 2005 Site