PhotoJournal For Dive Travelers
Dutch Language
Bonaire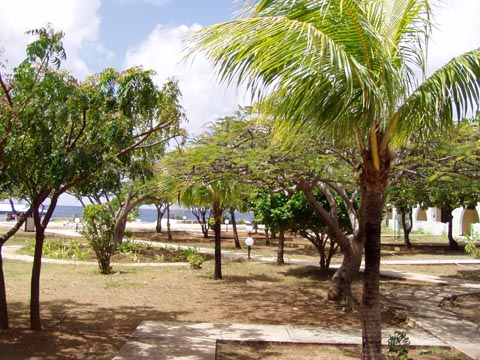 Den Laman
My wife and I just returned from our tenth trip to Bonaire. Let me start with a priority, food. I had Kabritu Stoba, (goat stew,) at two wonderful restaurants, Rose's in Rincon and Cactus Blue featuring Moogie on Wednesday. We also had great meals at Donna y Georgio's and Paris Bistro, and, as usual, the Pizza was great at Pasa Bon Pizza. Our final evening, I had the biggest and best Filet of my life at Casablanca.
For the second time in ten years, we dove with Bonaire Dive and Adventure. It was a bit of a let down. Our first experience with them featured an extremely friendly dive staff, ready, able and willing to meet our every need. It wasn't quite the same. The dive locker was very crowded, even though the hooks in one half of the room stayed empty. One fellow who came after us said that he and his wife were put on one hook. The camera rinse tank was empty for the first week, and only a small sink, big enough for one camera, was available. The staff was often hard to find, though helpful when found. Staff trucks often blocked much of the area where you go to pick up tanks. The checkout pressure gauge was interesting. If it registered 4000 PSI, you actually had about 3200 PSI. 3800 equalled a good 3000 PSI fill. If it registered 3400, My gauge said about 2700 PSI. We have been visiting Bonaire since 1987. I have always been thrilled with the idea that the dive operations, whether you were using them or not, fixed your regulators for free. One time, at the old Sand Dollar shop, a wonderful fellow worked all day on my old reg, and he was thrilled to be able to revive it. He refused payment and totally refused any tip. My wife had heard a small sound from her reg in the middle of the week. She brought it in and got a two minute adjustment. I thought that was nice. I also found a staff member who tightened my reg to stop a free flow. He was nice. Four days before the end of our trip, my fins were stolen from my truck right in front of the dive shop. I rented a pair for the next four days. When I went to check out, I was surprised that our bill was over $25. The fin rental was $4/day. I found that the difference was for regulator repair. These are not big things, but I was surprised to find them on Bonaire.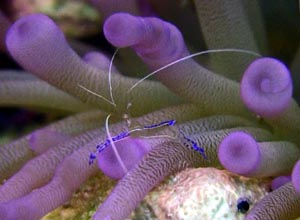 We stayed at Den Laman in the same building as Bonaire Dive and Adventure and the Reef Restaurant. It was interesting for a dive hotel. We weren't to enter the rooms section of the hotel with dive gear or in any way wet. On the plus side, the room had the best fridge I've ever had in any hotel and a nice high def TV, which was great since I take high def video. It also had a DVD player. The bathroom and shower were also very nice, as was the total LOOK of the room. There was a deck outside our second floor studio with a table and a drying rack. Since the deck overlooked an asphalt parking area, the tank room and compressor, we took the table inside. The concierge told us that Den Laman was Green, so we should turn off the A/C when not in the room. We told her that we rarely turned on the A/C at all, since there is always a great breeze near the shore in Bonaire. There was a breeze, but we were wrong. The was no screen in the room, and only a door, no window. We asked the concierge about the screen. She said that people kept walking into them, so they stopped using them. During the day, we never used A/C. Even without a window, the breeze coming through the door was great, but we had to close the door at sunset to avoid mosquitos. The A/C remained on all night. Green????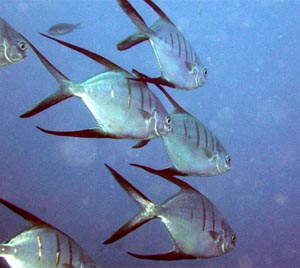 Meanwhile our first week of diving was great. The current was light, and the vis was great with very little silt. Our second week, the current, surge and undertow all picked up, really picked up. For three days, the swim from the reef to the shore was completely without vis, a total snowstorm. You couldn't see your hand in front of your face. Even on those days, there were good spots on the reef where vis was acceptable, and some sights were fairly clear. We dove Something Special five times, a great place to get away from the sandstorms. We did Karpata, Ol Blue, Cha Cha, and Jeanie's Glory twice and Oil Slick Leap three times. Only on one of the Ol Blue dives did we find it difficult to avoid the sandstorm. We hit many other sites one time each. We saw Turtles, Eagle Rays and one little Octopus. We saw a few huge Green Morays, hundreds of spotted morays and sharptails, and for the the first time in my life, goldentail morays swimming freely from one coral niche to another. I only saw one chain moray all week, and I didn't get a good pic. All the rest of the standard Bonaire fish were in abundance. The coral on the reefs near the major hotels is getting more and more chopped up every year, but the reef both North and South of the Hotels is still great. I'm sure Klein is still great, that's only hearsay, since we didn't get on a boat all week.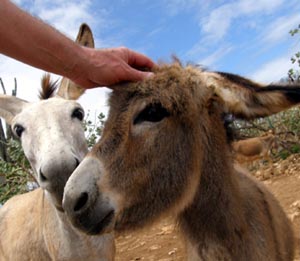 The last two things we did before leaving for the airport were leaving a few bags of carrots at the Donkey Sanctuary and enjoying a nice meal at Kon Tiki. Then onto the airport.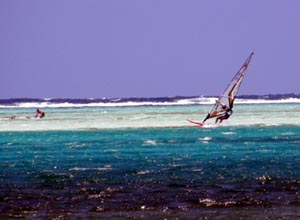 First the first time, we flew Delta all the way. The way down was fine. The way back wasn't that great. We left about 45 late from Flamingo Airport but landed well in time for our next flight. That's when the trouble started. Though we were 1/2 hour late, the plane in front of us hadn't left the gate. We saw luggage fall from a luggage cart, which continued on. Another cart picked it up later. After a significant delay we deplaned. After passing through immigration, we headed for the carousels to get our luggage for customs. Our entire planeload watched as the carousel filled totally with luggage, doubleparked, and no one took off a piece. Someone finally noticed that all tags were from other flights. Delta or Hartzfield had sent two other sets of passengers to the wrong carousel. Three loads were sent to the same carousel. The other passengers eventually arrived and started taking off their luggage. Ours started coming. By then a half hour had passed. There were 1000 people around the carousel. I saw my luggage go by, but I couldn't get to the carousel in time. That additional five minutes cost me. I am still waiting at home for my luggage, twenty four hours later, as I write this.