PhotoJournal For Dive Travelers
Carib Inn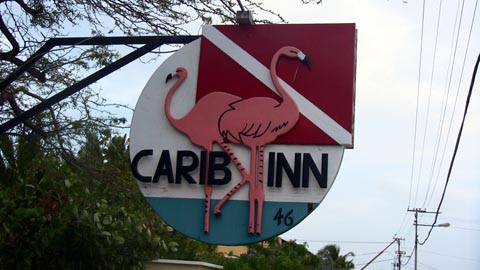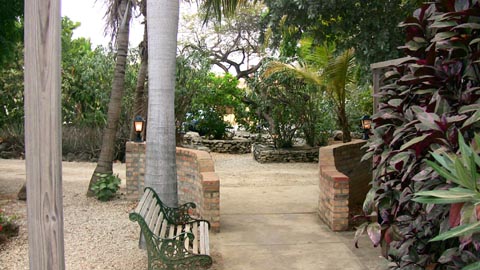 Bonaire, N.A.
DUTCH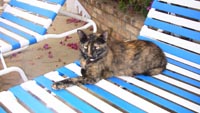 This was our ninth trip to Bonaire. We had thought of the Carib before, but rooms were never available. This time they were, and we're both very glad. We had a poolside room, not luxurious, but perfectly adequate for a wonderful dive trip. The pool was right outside our door, a great place to float around between dives. I visited friends in the oceanside rooms, and they are luxurious, with an incredible view. When we arrived, it was late afternoon, our room assignment was on the bulletin board.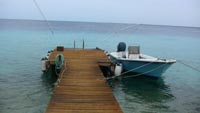 As usual we never got around to doing any boat diving, so I can't comment first hand on the operation, but the other guests seemed very happy. The dive shop was a real surprise for Bonaire. Prices were better than most retail shops back in the states with an adequate assortment of all the essentials. Laurie's regulator needed some work, and Bruce fixed it quickly and completely. I also did some damage to my u/w video casing. Bruce fixed that in a matter of minutes. The Carib is a small and completely friendly place.

Since the place is so small, everything is handy. The tankfill was a few steps from our room with a locker just the other side of the pool. Everyone was given a tank of their own for the week, but you could sign out other tanks whenever you wanted just by chalking your number on the tank board. As usual we rented a truck from A&B, and it ran beautifully for the entire two weeks. It took us along the shore from Old Blue to Margate Bay without a hitch, including a short drive through a small lake.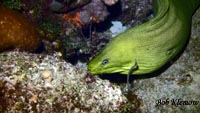 The diving was great as usual. 82 degrees every dive and no current. The only problem was a large amount of pariculates in the water the first few days. These could be avoided by heading north and south of town to less dived locations. At night we did all dives directly from the Carib dock. On our second night dive I saw an octopus. A few days later I was attacked by a huge lobster and the largest Green Moray I've ever seen swimming free. The next night we saw the first purple mouth moray I've ever seen on Bonaire, and we watched him catch and enjoy a meal. All these critters were less than forty yards from my room. Ah, Bonaire!