PhotoJournal For Dive Travelers
Buddy's Dive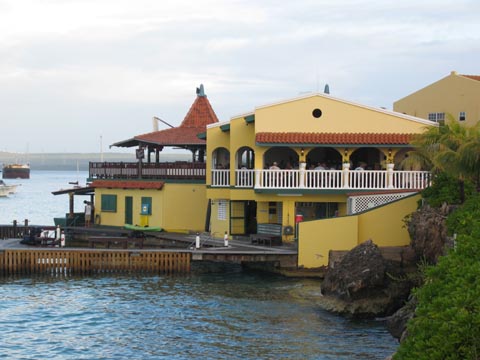 Bonaire, N.A.
DUTCH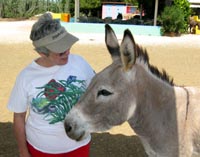 Laurie and I have been to Bonaire many times since 1987, and we had always wanted to stay at Buddy's, but there never seemed to be openings when we were ready. This year everything worked out. A bus picked up thirty of us at Flamingo Airport and drove us to the resort. We were each given our room and told to check in and pick up our truck at our leisure. The bags were delivered in front of our rooms.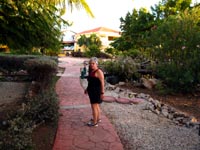 Our apartment was very comfortable with enough outlets for all my rechargers and computer. There was even a 110 outlet in the bathroom. The others were all 220, with receptables capable of taking European or American style two prong plugs. The TV, frig, stove and microwave worked well. Anything we needed for the kitchen was supplied. We were lucky to have a first floor room, so we could carry much of our equipment back and forth to the room between shore dives. Since some rooms are on the second and third floors, I'm sure some guests left their equipment in the dockside lockers.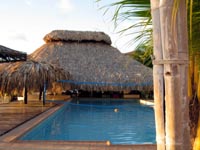 The scenery at Buddy's is very tropical. They have turned their part of the Bonaire Desert into a tropical rainforest. There are two pools, one hexagonal and one for laps and volleyball, complete with u/w stools at the poolside bar. There is one restaurant for the included buffet breakfast and one for lunch and dinner. The poolside bar is used for buffets twice a week and a happy hour with slideshows.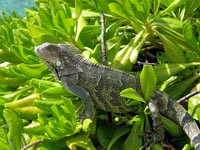 The dive operation is very professional with boats leaving on time. You can pick up your tanks right at the dock or at the drive thru tank fillup for shore diving throughout the island. The engineers at the tank fillups and in the dive shop did a wonderful job. Often they put my tanks in the pickup for me. All this led to a great experience at Buddy's.