PhotoJournal For Dive Travelers
Dutch Language
Bonaire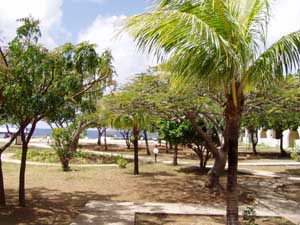 Sand Dollar
My wife and I just returned from our seventh trip to Bonaire. Much has changed since 1987, some of it positive and some negative depending on your values and love of Shore Diving. The diving is still wonderful. The marine life is still abundant though different. I have never seen so many fireworms nor Creole Wrasse in my life. Most small fish life, hard and soft coral and sponges are still everywhere in good health. Larger fish, like groupers are much less prevalent than in previous years, except, of course, for the ever present Tarpons.
We had previously stayed at Habitat twice, Lighthouse Beach Resorts three times, and the Hamlet. On this trip, we stayed for two weeks at Sand Dollar. I personally thought it was the nicest accomodations we ever enjoyed. My wife still likes Lighthouse Beach with Sand Dollar a close second. Our Condo featured a modern kitchen, large dining/living Room, which was tastefully furnished. It had two large Bedrooms, each including a private bathroom with a tub a shower. One bedroom came with a Kingsize Bed and a TV/VCR. The living room also had a TV. Bonaire Cable gives a nice assortment of choices in Spanish, Dutch and English including the 3 major American Networks, HBO, Showtime, Disney and Cinemax.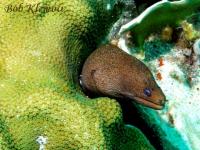 The dive operation at Sand Dollar was excellent. I did not once get a fill less than 3100 PSI. The staff was friendly and professional. They offered Nitrox at no extra charge while we were there, and I finally took the Nitrox Certification from a wonderful teacher, Ilse. I did have two complaints though. My first complaint concerns the filling station. It was only open from 8:30 AM to 4:30 PM, and there was a sign suggesting that each diver should only take one tank at a time. In order to do an evening dive, a night dive, and an early morning dive, one would have to take three tanks. At Photo Bonaire last year, we were given a key to get at the tanks 24/7. My other problem, and my biggest complaint with the new Bonaire was separation.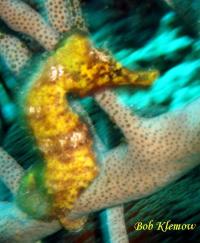 Fences and locked gates have become the new tradition on the Island of Dive Freedom. Habitat charges $5/diver/day to use their dock, and the reef off that dock is in nowhere near as pristine condition as I remember from years past. Flamingo locks the gate to their dock and Calabas Reef much of the time. Sand Dollar and Buddy's still allow divers to use their dock for entry. At one time, Calabas and Cliff Wall were among our favorite sights. Now the typical Bonaire friendliness does not seem to extend to these places. When I initially travelled to Bonaire, it was my first encounter with a place where hotels regularly allow others to use their facilities, knowing that their customers will be able to use other docks reciprocally. This made diving better for all and added to the reputation and economic growth of the island. I hope Habitat's departure from this civilized and economically sensible courtesy will not presage the future, though my experience attempting to get to Calabas this year does not bode well. Sand Dollar, itself, is surrounded by so many fences that the fifteen yard walk to the Tank Storage was a convoluted drive.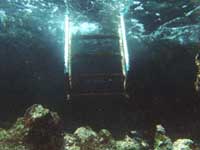 We did two dives from Angel City, which has a double reef, and the coral is still pristine. We did four dives each from Buddy's and Windsock, which were absolutely beautiful. At Windsock, we saw spotted, green and goldentail eels swimming freely during the day. The sandy beach entrance at Windsock is now marked by two piles of rocks, easily seen for both entries and exits. We also did five dives at Oil Slick Leap, where a new ladder, has been built for easy exits. We found a seahorse at 29 feet. It is also a great place for snorkeling with the reef starting at about 11 feet. The great majority of our diving was on Bari Reef, due both to its proximity and its abundant life. On every day dive, we would run into numerous hunting parties, consisting of a sharptail eel, hunting with a Jack, and a snapper or Spanish Hogfish. I have also never seen so many squid sit still for photo shoots. I hope you enjoy my pictures of the site. New dive sites now replace some of the ones which have been blocked from shore divers by new construction and fences. There is no longer an easy access to Punt Vierkant or Lighthouse Beach. Various other shore dive sites are blocked by new housing.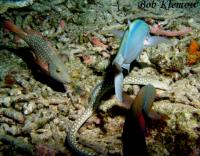 Most hotels and dive operations are still extremely friendly to those of us who choose to dive without the benefit of seasickness medicine in this shore diving paradise. Bonaire has prospered after realizing that you only get a few dollars from selling a fish, but you can make millions by getting thousands of people to come down again and again to dive with the fish and the sponges and the coral and other marine life. I hope the new attitude does not continue and Bonaire will remember its beginning. The operations who build docks into the sea are benefitting greatly from the Marine Park, provided by the government and supported by diver fees. I don't believe these private operators should be allowed to deny access to Shore Divers.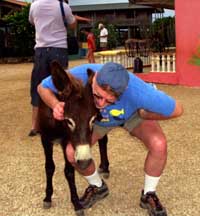 Last year we travelled to the Donkey Sanctuary for the first time. This Sanctuary was created through the efforts of Marina Melis. Make sure you make it part of your trip to Bonaire. It is located immediately south of the airport.
My wife and I went kayaking into the mangrove forest at Lac Cai with an excellent guide, Hans. This was a two hour easy paddling adventure for divers or families. The mangrove is a nursery for many of the marine species around Bonaire. If you're very quiet you may also see some of the different species of birds that inhabit Bonaire. Each trip to Bonaire, we learn something new.